Posted by Lynda on Jan 9th, 2012 | Comments Off

on Praying With Food

I met Pearl as part of my spiritual direction training. I found her to be creative, intuitive and a wonderful listener. She has such a warm way of drawing you in to her. Using this creativity and warmth, we are fortunate that Pearl will be sharing a unique way of being contemplative with us. Pearl Nieuwenhuis  is the sister of 8 siblings, is a wife of 25 years, the mother of 2 university students, has a history as a teacher in both public and private schools, as a home schooler and as a home education consultant. She is currently working as a spiritual director both at the University of Calgary Faith and Spirituality centre as well as in her home. She loves reading, having meaningful conversations, experimenting with food and playing squash. She reports that at this time in her life, she is paying special attention to God's loving invitations in her life – to trust, to be open and receptive, to being fully alive to new ideas and people, to accept difficult things and much more! I know you will enjoy this posting (I loved it!) and can immediately taste of this contemplative way!
Praying with Food – A Contemplative Way of Being
By: Pearl Nieuwenhuis 
A few years ago someone told me that she felt a great closeness to God when she donned her hockey equipment and played a game of hockey.  It was what she experienced as a body prayer.  That telling opened up a world of possibilities as I wondered what a prayer using my body might look like for me.  As I reflected about my days and some of the things that awakened my bodily senses, awareness of myself and openness to God's presence, I noticed how I kept thinking about cooking.  I love food.  I love the colors, textures, smells, and tastes of so many foods.  And, I notice how my heart sings a song of delight and gratitude when I have time to enjoy them.  I wondered if cooking could be a time when I feel a great closeness to God and experience it as a body prayer.  I decided to experiment and over the past year I've selected an intentional time to commune with God as I cook and call it praying with food.  In a gently held routine, I allow a time where I can make something yummy and allow my heart to open up to what God might have to offer me during this time.  Even though I love food and enjoy cooking, what comes to me as I contemplate isn't always delight and gratitude.  Sometimes I have a strong sense that God is asking me to pay attention to something uncomfortable.  Paying attention.  Yes, that is really what this practice is about; slowing down and in the paying attention allowing something of God to move me.  What I've written below is from my journal after a time of "praying with food".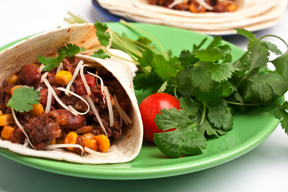 "I've just made 33 bean and beef burritos for my praying with food day.  The onions were crisp and crunchy – easy to chop, sharp to the eyes but smelled so yummy while frying in real butter – turning a translucent something before I added a mixture of legumes.  Legumes.  They're so earthy.  So filling.  Versatile and nutritious.  They've been uninteresting until now.  And, admittedly, even 'beneath me' until now.  A poor man's food.  I looked closely at one probably for the first time in my life.  It was beautiful and perfect.  I was surprised at how moved I was by noticing this seed and a small yet perceptible shift took place in me as I recognized God's creative care for people; for me.   Garbanzo and black, white and red beans along with some onion powder, chilli powder, cumin and garlic.  5 pounds of fried ground beef and several teaspoons of salt added to the bean/onion mixture and several cups of shredded cheese – what a hearty and tasty filling for the whole-wheat flour tortillas.   I tried not to just get it done but be grateful for those who had toiled so I could enjoy.  Hmmmm, I wondered who tended and gathered the chilli peppers and cumin seeds?  I wanted to appreciate them….would they ever know that some stranger appreciates them?  I felt grateful for the farmers who raised cows and milked them, and for those who added the rennet to make the cheddar cheese.  I didn't actually think about the cows – hmmmm– I think I try not to because I don't like the idea of killing cows and also because how I felt about cows growing up on a farm.  They were big and smelly, a nuisance to feed and water.  Scary.  I never really thought about caring for them.  God, do you care about cows?  Should I care about cows?  Would I eat differently if I did? What is it about animals and their muscle that we like to eat it so much?  I certainly loved the burrito mixture – it was absolutely delectable but what about those cows?  And, come to think of it, what about all the people in the world who cannot afford to buy meat and benefit from the protein it offers?  Does my consumption affect the health of others?  Does it harm others? These questions have been running through my mind in a newly awakening way.  In the midst of mixing the burrito ingredients together I stopped and waited.  It was like God said "Yes, I do care for cows."  And I knew it to be true.  Of course God cares for cows.  And legumes.  And farmers.  And me."
What kind of body prayer might fit for you?  If you are interested in trying something other than folding your hands in devotion or lifting your hands in praise, consider when you quite naturally awaken to your senses, your body.  Might you use these times to listen and pay attention to what God may be inviting you to?